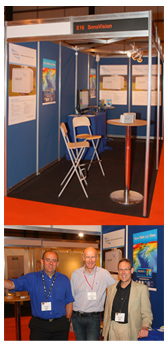 Fishing 2010 – A trip with a catch!
Sonavision attended Fishing 2010 at the SECC in Glasgow this year which led to a successful and busy 3 days for everyone on the stand! Whilst the show was slow to get started by the first afternoon the hall was busy and enquiries soon followed. Whilst the show gave the company a great platform to show our new look logo it also allowed us to make contact with customers and distributors both old as well as new. The stand showed the new look RoxAnn GD along with Sonavision also providing demonstrations on the Seabed Mapping "Piscatus" product. John Reid from Seabed Mapping visited us and kindly agreed to get snapped with both Directors Geoff Bush and Bob Wilkinson. As always positive talks were held on all matters concerning the companies. Other noted visitors to the stand were Les Smith of Echomaster Marine, Fran West of Ormtec, Dave Simcox of Electrotech Marine, Steve Wood of Woodsons and many more.
The show provided the openings of more opportunities for Sonavision to expand our existing presence on the UK Fishing Scene and check out our latest news bulletins for developments that arose from the show.